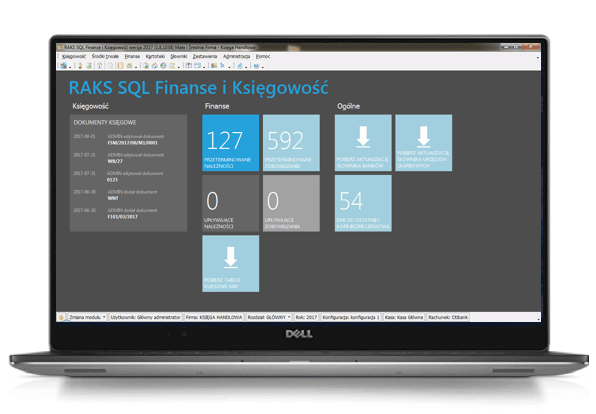 RAKS for accounting offices
RAKS is a complete software for accounting offices. It allows bookkeeping and payroll accounting for companies, public institutions, cooperatives, foundations and non-profit organisations. It supports any number of entities - without limits or restrictions.
Key features
Quick document entry
Convenient import of data from customer systems
Free telephone and e-mail support
Fixed Assets and Finance for any number of companies
Direct data exchange: ZUS, e-declarations, JPK, bank reconciliation systems
No limits or restrictions on the number of cleared firms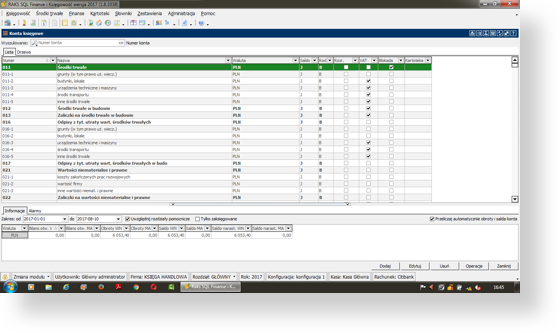 Full accountancy
The software designed for keeping commercial ledgers. Functionally rich, yet intuitive and user-friendly. Streamlines daily work in the accounting office and allows easy control of all areas of full-accounting settlements. Provides multi-level control of access to data.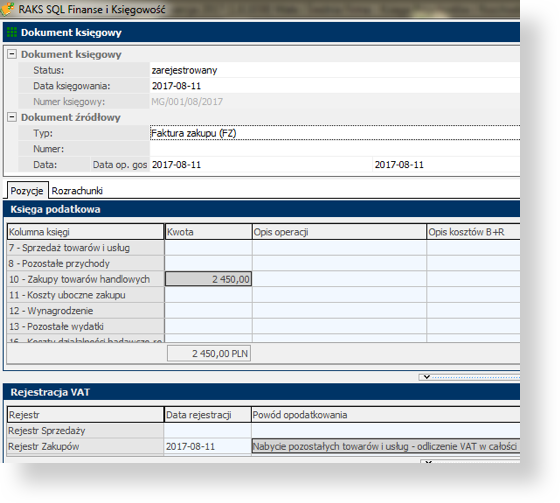 Simplified accounting
An extremely simple and user-friendly software designed for Accounting Offices that settle their clients on the basis of the Income and Expenses Ledger or records of income subject to lump-sum income tax. The application is intuitive to use and rich in features that streamline the daily work of accountants.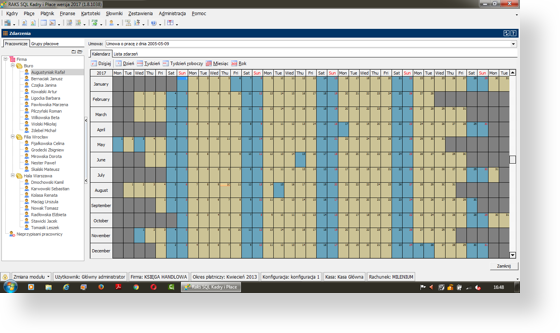 Human Resources and Payroll
The software streamlines the payroll and personnel management of the accounting office's clients. It provides full support for employment contracts and civil law contracts and contains ready-to-use schemes for calculating payroll. The programme is fully compatible with the latest version of the Płatnik (Payer) and allows for the preparation and sending of settlement reports: RCA, RZA, RSA and DRA.
Key software functions
Ergonomics of work
Fast and convenient document input, also using the keyboard alone. Advanced viewing, printing and exporting windows, search, filtering and grouping of data, exports and 'on-the-fly' statements streamline daily work.
Settlements
The accounts receivable module is closely integrated with the accounting records. The extensive package of statements and reports it contains facilitates the management of receivables and payables.
Fixed Assets
The recording, updating or amortisation of fixed assets, equipment and intangible assets can be carried out easily within the programme. The combination with the accounting module provides a complete solution for the recording and movement of fixed assets within the company.
International cooperation
The system supports documents necessary when dealing with foreign counterparties, such as WNT, WDT, export invoices, purchase invoices in currency, SAD, and also provides the possibility to run a cash register in multiple foreign currencies.
Personal data protection
Thanks to an extensive system of recording and dividing permissions, the programme ensures control over access to selected data. RAKS operates in compliance with the requirements of the Personal Data Protection Act.
Automated and template accounting
The software allows the marking of documents and their items. By using accounting templates, it allows documents to be posted automatically, which increases the speed of work and eliminates manual recording of data.
Data import and export
Openness to collaboration with other systems is an asset of the programme, making it possible to electronically import and export data, including files, dictionaries, commercial, financial and warehouse documents, speeding up and automating work.
E-declarations and JPK
RAKS enables the submission of tax returns electronically. It also collects the data required for the correct preparation and sending of the Single Control File. It enables control of the generated files before sending them to the Tax Office.
Integration
Thanks to full integration, the sofware eliminates the need to enter the same data more than once. All information: directories, dictionaries, documents, settlements and declarations are available contextually in all system modules.
Lead your business better
RAKS is successfully used among retail, service and manufacturing companies. It is fast, intuitive and secure. It is perfect for both small and larger companies.
DOWNLOAD DEMO