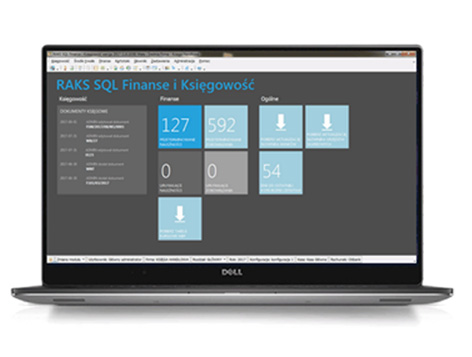 RAKS Online
Convenient work on software located on RAKS servers. The user has the possibility to work from any place, at any time. All you need is a computer with access to the Internet.
Online applications
Sales and Warehouse
Fixed Assets
Accounting
Production
Simplified bookkeeping
E-reports
Human Resources and Payroll
Online invoices
Cost reduction
RAKS in the cloud is a much smaller expense than investing in your own server infrastructure and its professional maintenance. Maintenance and other cloud-related duties are handled entirely by RAKS. This allows in-house staff to devote themselves to tasks that will have a real impact on the development of the company. Migration and integration costs are extremely low in this model.
Improved data security
All data stored in the cloud is encrypted. No possibility of accidental, unplanned deletion of data. Backups are made automatically. There is no need to perform them manually.
Financial benefits
The most important advantage of the cloud is the conversion of fixed costs into variable costs; instead of purchasing fixed assets (servers, server rooms, etc.) and licences (operating systems, databases), the customer pays only for the computing power and disk space needed at any given time.
No restrictions
Employees can always access the programme from anywhere in the world – while on business or working in another location. The application is available anytime, any day of the week, 24 hours a day, 7 days a week.